Hannibal
Travel is fatal to prejudice, bigotry, and narrow-mindedness… — Mark Twain
It was hot enough to render my car's air conditioning near useless as I drove west on the sun-baked and faded state road of Illinois Route 72. Hotter than a frog on a hot plate, my grandpa would say. And all the blasted cold air in the world couldn't protect my skin from the relentlessly cheerful sun, unburdened by clouds for my four hours on the road. Corn and soybean fields gave way to more corn and soybean fields gave way to clusters of tree groves and, finally, the first signs of hillier territory that my central-Illinois upbringing rarely put in my windshield view.
Would have enjoyed it more if I didn't feel my skin baking under the sun's ever watchful, glaring eye. Hunger, legs in want of a good stretch, and a need to be indoors for awhile made me that much more excited to finally see the Mississippi River up ahead, where I'd cross to enter Missouri.
"Welcome to Historical Hannibal. Write Your Own Story," the welcome sign greeted.
After getting gas for the next leg of my journey, Hannibal's historical downtown was my next stop, which ran parallel to the Mississippi. It was the day after the Fourth of July, and passersby and tourists strolled along the sidewalks at a leisurely pace, fresh out of all the excitement from yesterday's holiday and aiming to relax. I parked along Main Street and listened to my rumbling stomach first. Naturally, I sniffed out a coffee shop, because that is how I do when I am anywhere.
Cool air conditioning and the smell of brewing coffee drew me in to Java Jive, past the souvenirs and oddities they sold up front and back to the Alice in Wonderland-esque seating area. Local art along the exposed brick walls looked down at mismatched orange velvet armchairs, green suede wing back chairs, and vintage wood table sets. Antique lamps mingled with pottery in cupboards, and couches from someone's living room circa 1975 huddled around glass tables. It was like sitting down for coffee in an antique shop that bore a passing resemblance to my great aunt Vivian's den.
I had the Frida—a chicken salad sandwich—from their artist-inspired offerings (the O'Keefe was a close second). While I ate at a snail's pace to bask in the cool indoors, I checked in with family and friends still baffled that I chose to road trip, by myself, from Illinois to Utah over the course of three days. 
Mark Twain's childhood hometown was my first stop.
Samuel Clemens lived in Hannibal from four to seventeen. He grew up watching the steamboats come and go from the Mississippi, and worked at the Hannibal Western Union newspaper at 15, as a printer and sometimes writer and editor. Back then, Hannibal's population was around two thousand; now, its population hovers around 18,000. The storefronts and cobblestone of the historic downtown lets you believe it may have looked like this over 160 years ago, when one of America's greatest writers lived there. 
Distantly, I knew I couldn't loiter in Hannibal long, but the vibe of the whole area was laid back, unhurried. It invited you to poke around, meander, stay awhile. I slipped into it effortlessly. I walked down Main in the summer heat to stretch my legs, past Mark Twain's boyhood home with its white paneled siding, green windowsills and green door; past Tom Sawyer's fence, where Tom tricked a bunch of boys into doing his job and painting the fence for free.
I wondered what it must have been like, growing up here with the still, wide Mississippi waters a stone's throw away. The memories collected in Twain's mind that turned into iconic, and controversial, American literature. I popped into shops filled with handmade quilts, custom jewelry, and more antiques than you could shake a stick at. After listening to locals and tourists talk in a fabric store, I crossed the street to another white-paneled, plain building.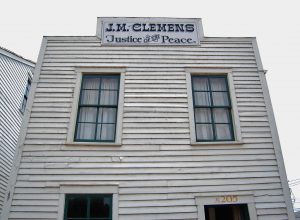 John Marshall Clemens practiced law here, and functioned as a judge before he died of pneumonia when his son, Sam, was 11. The Clemens family were not wealthy, and I can only imagine the hardship that caused Twain to leave school the next year to become a printer's apprentice and bring in family income, since his mother was then raising four children by herself.
One of the techniques I admired most from Twain was his ability to capture dialect and the ebb and flow of conversation; it first struck me not in Huck Finn, but in the short story that gave him his break in 1865: "The Celebrated Jumping Frog of Calaveras County." I imagined a young Twain absorbing the inflections, tone, slang, and speech of everyone he came across during his time in this river town, and storing it away for his future writing career. 
Where Main Street ended on my walk, an incline up a hill began. I wasn't keen on making it all the way to the top in that heat, but a certain bronze monument drew me up the stairs, past beds of yellow black-eyed susans, purple gayfeathers, and pink coneflowers. "Becky's Butterfly Garden," read one of the benches. The statue stood in the center of the garden.
I knew I would meet Tom and Huck sooner or later.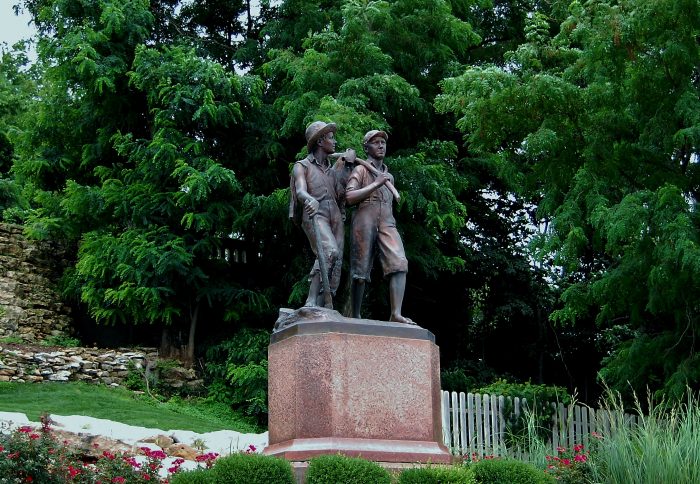 Given that Hannibal was the inspiration for Twain's fictional St. Petersburg in Tom Sawyer and Huckleberry Finn, it seems fitting to have both boys overlooking Hannibal, frozen mid barefoot-stride in their stroll down Cardiff Hill. Sculptor Frederick Hibbard brought them home in 1926, and their dedication was attended by Laura Hawkins Frazier (Twain's inspiration for Becky Thatcher) and Molly Brown (the Unsinkable kind), who was also born in Hannibal. Their eyes are squinted against the sun, their stances relaxed, and Huck is turned toward Tom, as if he's in mid-sentence. The boys looked a lot cooler in the heat with their floppy hats than I felt.
I bid Huck and Tom farewell and headed back downtown, parallel with the indomitable Mississippi. I went back to Java Jive for an iced coffee to go. I had another five hours on the road to Kansas, after all.
It wouldn't be my last stop to Hannibal. I'd walk those streets again. Maybe hop on a riverboat and cruise the river that gave Mark Twain his name.